In our workshop we run prestigious Heidelberg machines, a synonym of excellence amongst printers. We can offer you the services of two automatic platen presses, a platen press for embossing and foil stamping, a sheet-fed one colour offset press and two thermographic printing machines.
A project always starts with a thorough enquiry of your wishes. The first step is to determine the printing technique and material. Finishing techniques later complete your prints. We work with you to realise the best possible projects on a visual, tactile and emotional level.
All stages of production are in-house, from the development of films to the exposure of plates. Thus we can ensure complete mastery and quality control at every step of every project.
Printing techniques
Offset printing
Inspired by the traditional technique of lithography, the process of offset printing is based on the repulsion of oil and water and requires a rotary press. It adapts to a large range of papers and allows remarkable and delicate results, thanks to the quality of the inks, which, repulsed by water, are partially absorbed by the paper. Several stages precede the printing, notably the development of a film and the exposure of a metal plate. For this reason, the technique is more suited for medium or large run.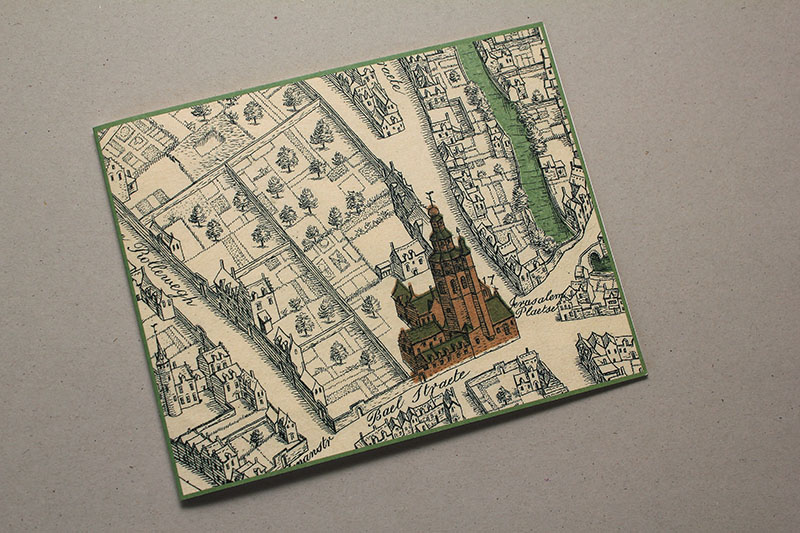 Letterpress printing
This technique perpetuates the fundamental principles of printing as established by Johannes Gutenberg in the XVth century. The paper is applied to an inked relief plate or block, with controlled pressure. Today manual type setting has been replaced by photopolymer plates that still demand significant preliminary work ahead of the printing phase. The traditional platen press requires high skills to set the exact necessary pressure so that the type just "kisses" the paper, transferring the minimum amount of ink, and creating the crispest print with no indentation. It requires just as much precision to control a desired indentation, or "bite".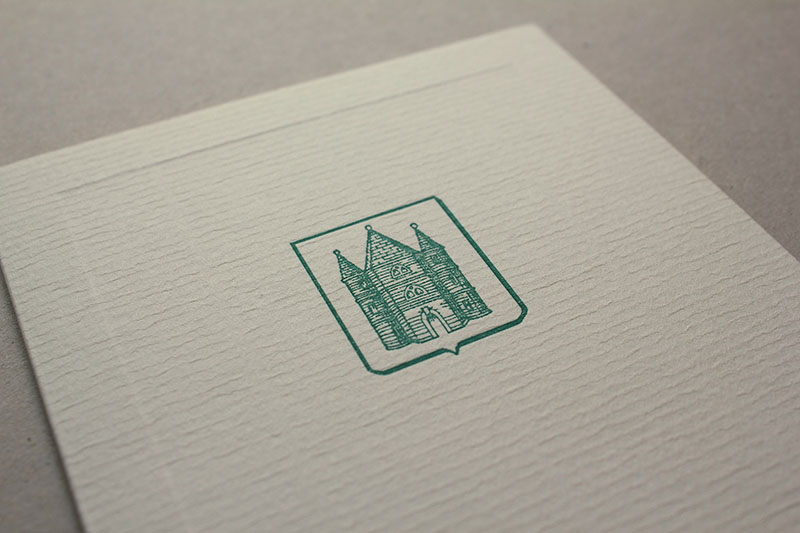 Digital printing
Digital printing is based on a four colour process. Four inks, cyan, magenta, yellow and black, are distributed and "cooked" on the surface of the paper, giving the print a satin finish. The process is considerably faster, with minimum handling and very brief drying phase. Although less sophisticated, it is very economical. This technique suits small draws, offers great flexibility and high image resolution.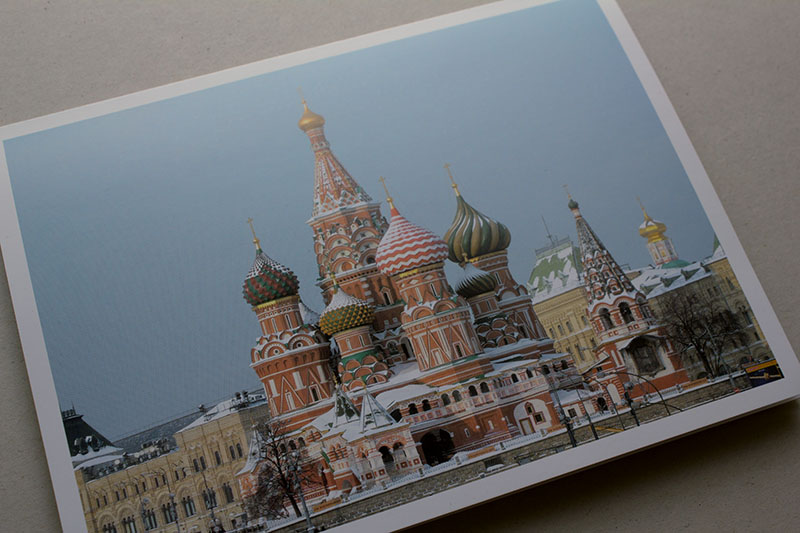 Finishing techniques
Thermographic printing
This technique relies on heat to create a relief-print. It has to be realised while the ink is still wet, therefore it must immediately follow offset or letterpress printing. A powder resin is applied on the paper; the still humid ink fixes it before a vacuum system removes excess powder from uninked areas. The paper is heated in a high temperature oven, where the resin expands. This finish gives a tactile dimension and subtle touch to your prints.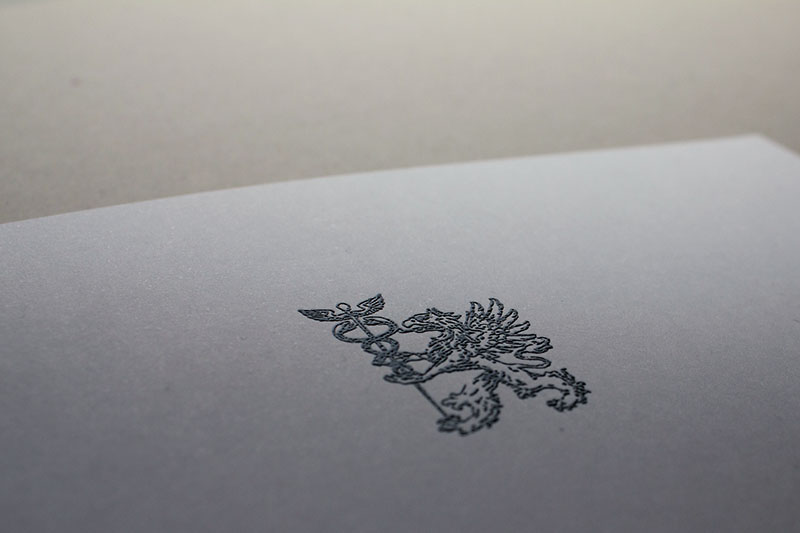 Blind embossing
This technique creates a non-inked relief from pressing a dry stamp onto paper. Blind embossing is a historical technique that has been used from the XVIIIth century to certify and authenticate valuable documents. A dry stamp is often an engraved block that is applied on various materials with a platen press.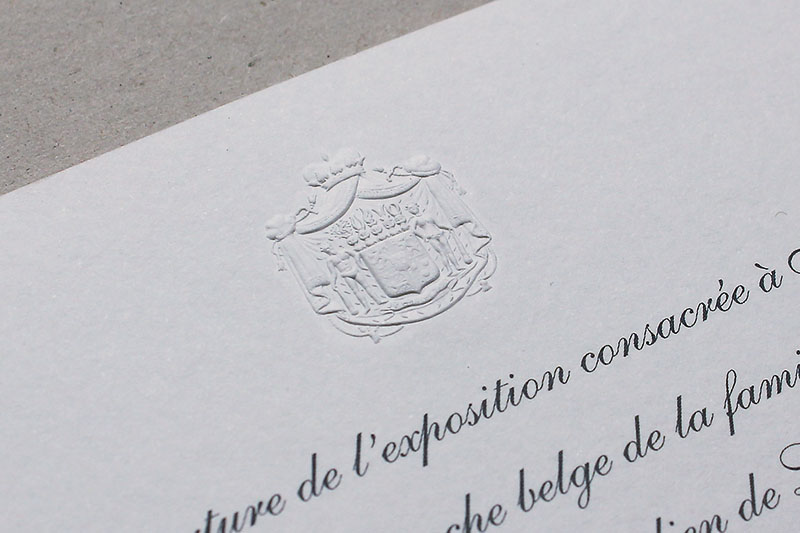 Foil embossing
This technique combines foil stamping with embossing. A metallic or coloured foil is transferred in thin layers on the surface of the paper through heat and pressure, giving the embossed area a metallic shine.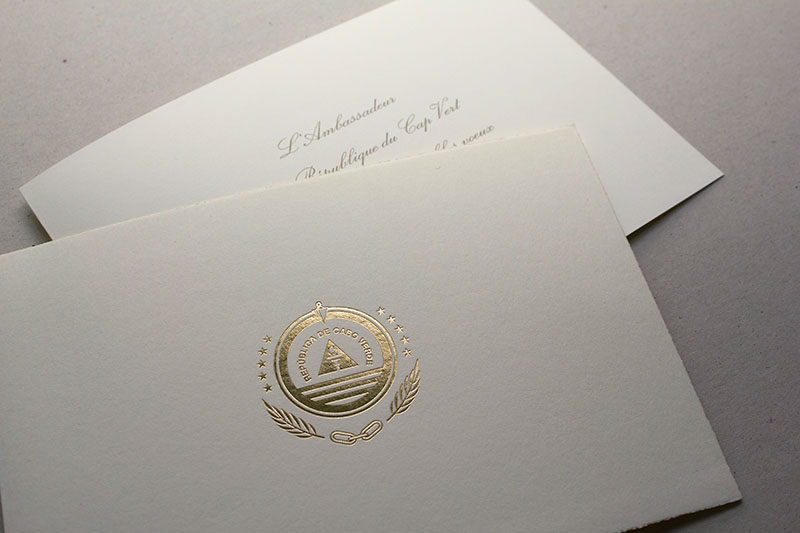 Letterpress bite
Achieved through skilled use of letterpress printing, we manually control the pressure of the platen and the amount of ink to create a delicate indent. The higher the pressure and the softer the paper, the more bite and recessed relief your print will have.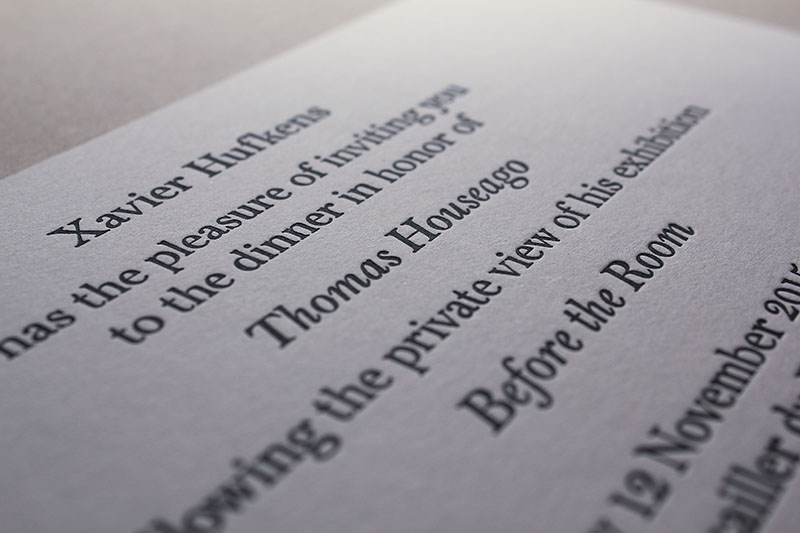 Print media
Papers and envelops
We pay great attention to the quality of papers we use as it is crucial to the making of great prints. We are at your service to guide you through our wide range of papers, of various qualities, weights, textures and colours, to help you find the right paper for your project. We foster a tight relationship with our professional paper suppliers in order to guarantee the best products, from traditional materials to modern innovative media. Envelops are an essential detail to the delivery of high-end prints. In this regard we stock a wide variety of them, in multiple finishes, simple and lined.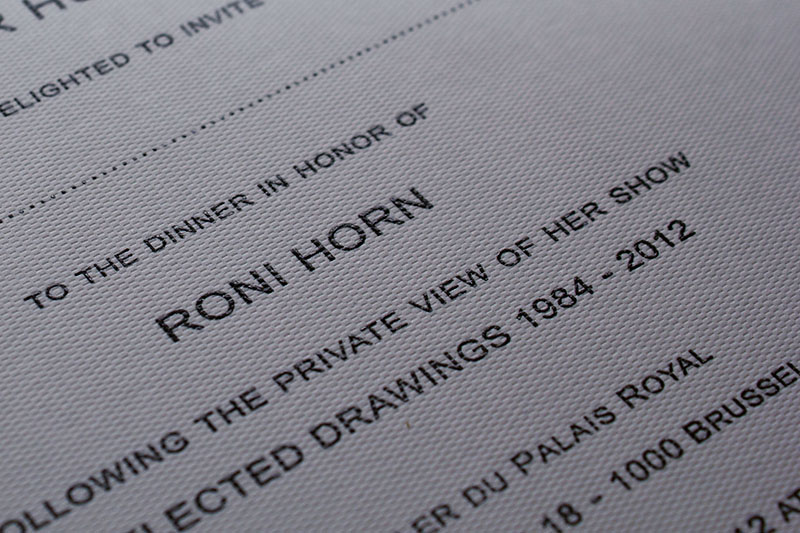 Handling
In addition to printing we are happy to offer you advice and care for any other task involved in the production of your project, including folding, binding, assembling, etc.